During the fall and spring semesters and the undergraduate summer session I, Temple Rome offers a unique opportunity in experiential education. Our internship program provides students with an immersive, in-depth introduction to the Italian workplace, coupled with an academic context for their internship experience. The focus is especially on connecting the internship placement to each student's course of study, what they learn from the internship, and how cultural issues in the workplace influence their experience. Internship opportunities include working with Italian and multinational companies, law firms, nonprofit organizations, galleries, and local artists.
Throughout the experience, students reflect on the concept of skill-building in cross-cultural competencies including effective communication, teamwork, goal setting and negotiation, and conflict mediation. Students are pushed to process what they experience at their internship, focusing on their skills, professional development, and career aspirations.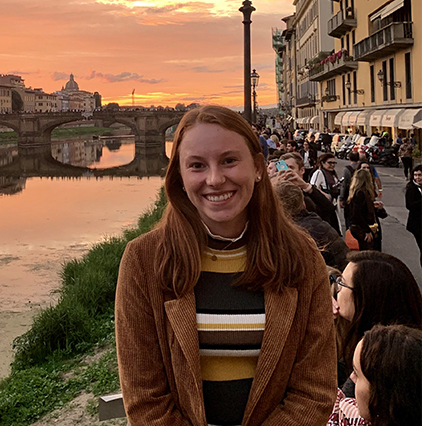 Emma Lower-McSherry '21
Major: Political Science; Minors: Global Studies, French
"My internship in Rome completely adjusted my way of thinking and introduced me to so many amazing people. Before leaving Rome, [Temple Rome] put me in contact with a previous student who interned with the State Department in Rome. I was in contact with her and had the opportunity to apply to a State Department internship for this fall in D.C. I was accepted and will be interning with the Office of Multilateral Coordination and External Relations in the Bureau of Population, Refugees, and Migration. My experiences in Rome were great talking points for the interview and certainly set me apart from other applicants. I am so excited to continue my passion of helping immigrants and refugees."
How it Works
Interns register for the internship course (three semester hours) in addition to the other courses you are taking at Temple Rome. You must verify that you will receive academic credit from your home institution to be eligible for an internship.
A faculty supervisor oversees the internship, sets the evaluation requirements, meets with you regularly, and requires a final report or project related to the experience.
Students accepted to the Temple Rome program receive more information and an application for the internship. To be eligible, you must have at least a 3.0 GPA and participate in the Temple Rome program. No student is permitted to only register for an internship in the academic program.