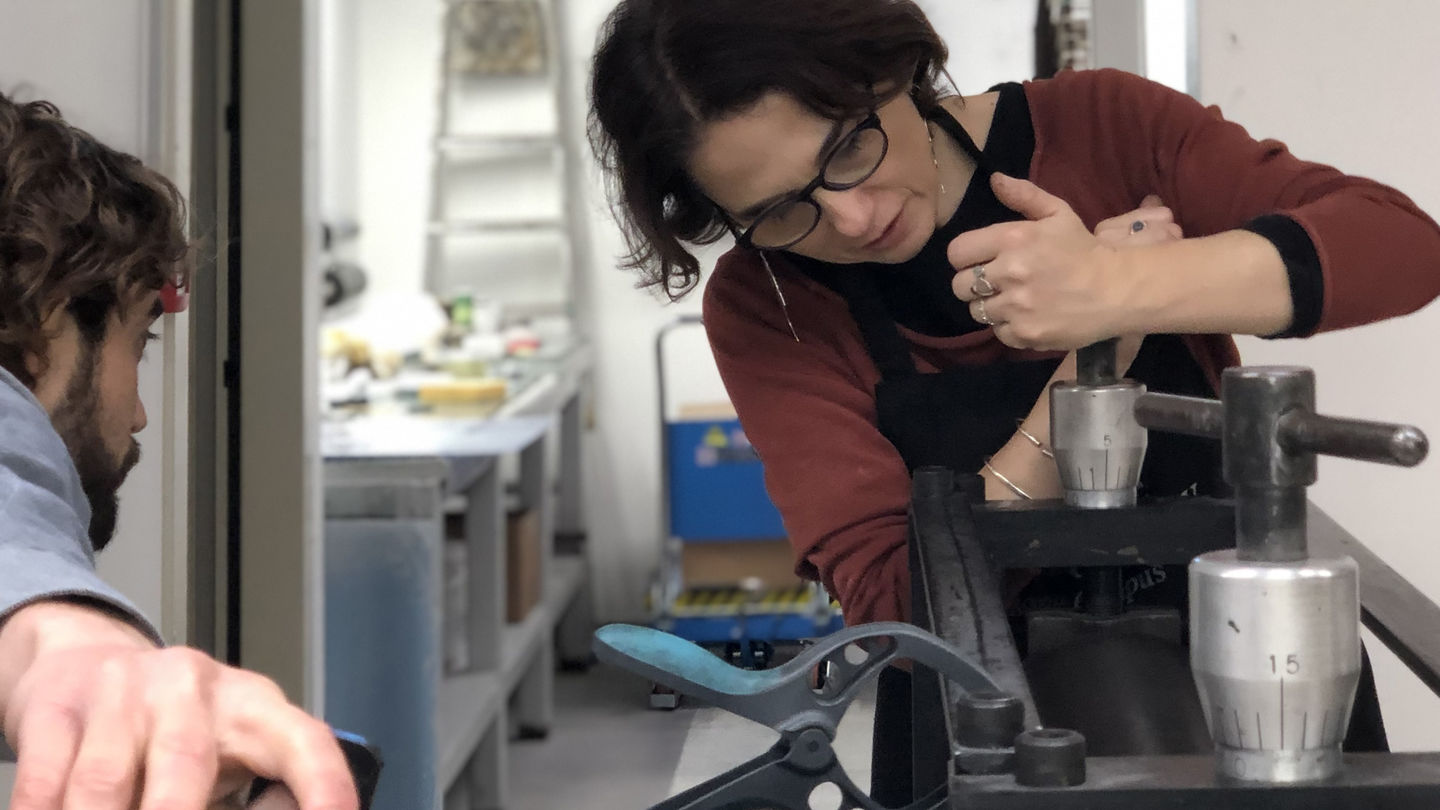 This past Fall, Temple University Rome had the great privilege of hosting Maria Pina Bentivenga as its inaugural Visiting Artist (VA) in residence.   
Originally from Basilicata in the south of Italy, Ms. Bentivenga is a contemporary artist and professor of printmaking  based in Rome. Her etchings and artist's books are exhibited in Italy and abroad, and are part of collections including the Albertina in Vienna and the Istituto Nazionale per la Grafica in Rome. She is a founding member of the InSigna Association in Rome, which promotes and produces artist's books and fine art prints. She is also a board member of the Associazione Incisori Contemporanei and, since 2016, has been on the board of the International Renate Herold Czaschka Foundation. Ms. Bentivenga is an accomplished professor of printmaking, teaching for many years at the Rome University of Fine Arts (RUFA) and the Accademia di Belle Arti di Roma.  
From mid-October to early December, Ms. Bentivenga worked intensively in the Temple Rome printmaking area, embedding herself alongside students and faculty to develop an ambitious new series of prints conceived specifically for her residency at TUR. Her project focused on diverse sacred spaces in Rome including the Synagogue, the Mosque, and the Ara Coeli Church. She photographed each location, seeking to capture nuances and details of light and space. Taking advantage of Temple Rome's photo-mechanical processing equipment, the resulting photos were brought back to the studio where they were enlarged, exposed, and developed into photoetching plates. She then worked exhaustively, color proofing and printing on lightweight Japanese papers, to combine the photo plates with her own hand-drawn intaglio plates. The resulting images are subtle reflections on ephemeral qualities of each site. It was her intention that they extend beyond ideas about religion, encouraging reflection on the psychological experience of space, and the convergence of place and spirituality. 
Ms. Bentivenga will be exhibiting her new prints as part of the 2023 faculty exhibition opening on January 15th in the Temple University Rome Gallery of Art. 
In addition to developing her personal research, Ms. Bentivenga was a frequent guest in Printmaking Workshop, an advanced level course for upper-level printmaking students. She contributed significantly to the class and students followed her project closely, eventually incorporating her photo-intaglio technique to expand their own experience of traditional etching. This type of open, fluid exchange was exactly what was hoped for when the VA program was conceived.
The idea of hosting contemporary artists to develop new projects alongside our students in the Temple Rome printmaking area got its start last year (academic year 2021/22). Artists Johnny Plastini and Josè Witteveen completed residencies in the Fall of 2021 and Spring of 2022 respectively at the invitation of Professor Devin Kovach. Recognizing the beneficial impact of these experiences, Dean Emilia Zankina sought to broaden the scope of the initiative by creating an official Visiting Artist in Residence Program. Last summer an open call was held and artists were invited to submit proposals for two residencies during the 2022/23 academic year. Of the many exceptional proposals reviewed, two candidates were eventually selected; Maria Pina Bentivenga for the Fall of 2022; and Ron Abram for the Spring of 2023. 
The studio art community looks forward to welcoming back Ron Abram for his residency this February. Mr. Abram is an alumnus of the Temple Rome program, having studied at TUR in the 1980s while completing his MFA in printmaking at the Tyler School of Art. He is now professor of printmaking at Denison College. We are thrilled that he will once again be making prints at Villa Caproni!