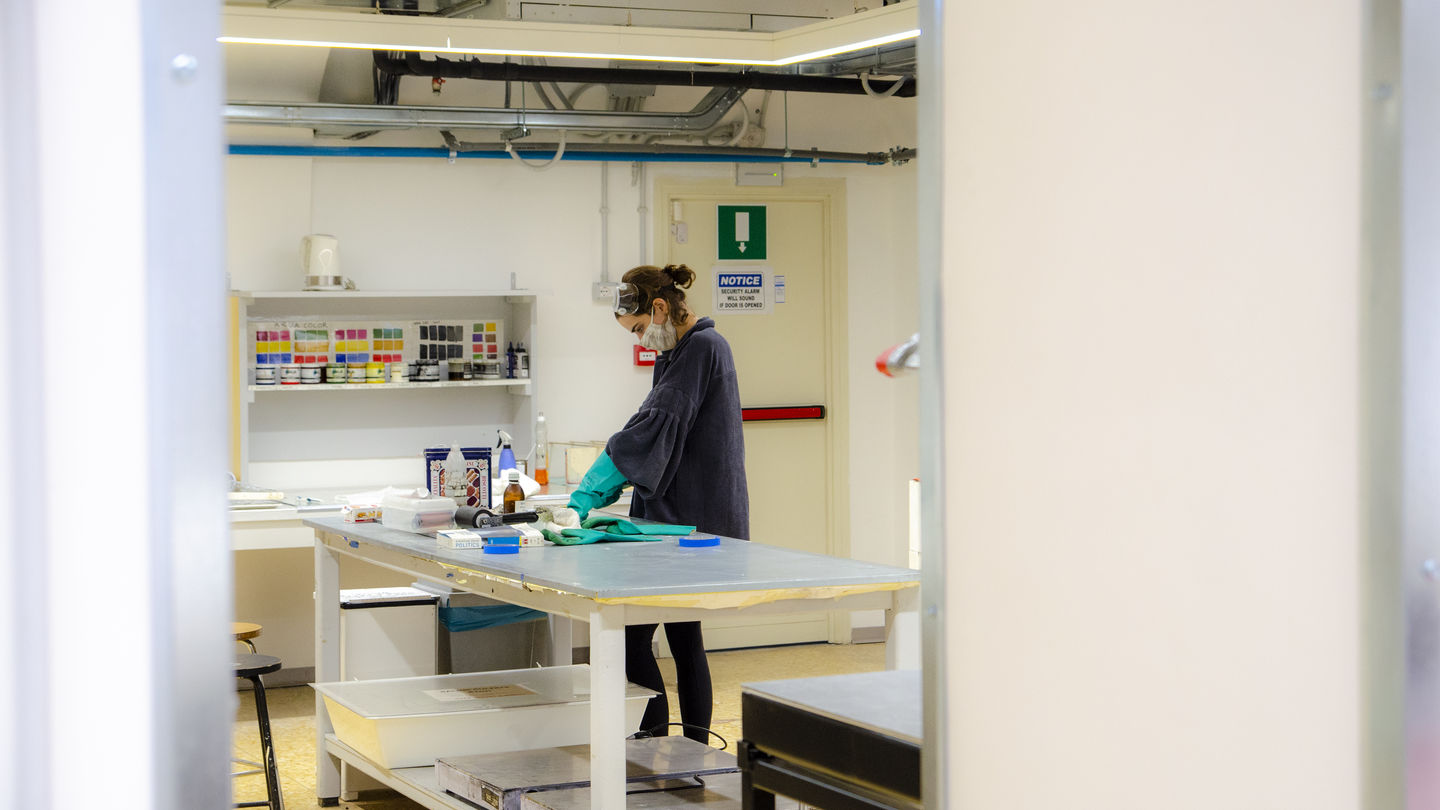 It was a big year in the printmaking department at Temple University Rome (TUR).  A full renovation of the printmaking facilities was completed in late August just in time for the start of the Fall semester. Architect Cinzia Abate and Bruno Masci of AeV Architetti, in close consultation with TUR printmaking faculty Devin Kovach, redesigned and modernized each of the printmaking lab's working areas with a vision toward safety, excellence in teaching, and innovation in printmaking practice. Over a period of two years, the trio collaborated to devise working spaces in which the traditional methods of etching, woodcut printing, and lithography can be practiced safely and effectively; while also paving the way for new techniques at the forefront of printmaking and graphic arts. The new lab boasts state of the art ventilation, enlarged working areas, upgraded equipment, improved lighting, and new technologies. These features support the future of an area that has long been a cornerstone of the Fine Arts Program at Temple Rome, situating TUR as a hub of dynamic research in the field of visual arts. 
Among the new technologies introduced this past Fall was a brand new RISOgraph printer. RISOgraph is a hybrid print technology combining the logic of lithography and silkscreen printing with the immediacy of a xerox copier or digital printer. It enables artists to combine digital and hands-on approaches, and print rich layers of color on a range of diverse papers. It is an exciting new direction for TUR printmaking, where each course takes advantage of the unique context of Rome to explore the intersection of historical craft traditions and contemporary artistic innovation. The introduction of RISOgraph was especially targeted to expand students experience in the Book Structures course, a highly successful facet of the print studio for nearly a decade. Prof. Kovach and his book structures students embraced the new technology to print zines and artist books in which students expressed personal experiences of Rome. 
Alongside the exciting activity in book structures, the printmaking area also hosted a visiting artist, Johnny Plastini, professor and area coordinator of printmaking at Colorado State University. Prof. Plastini embedded himself in the new printmaking lab for 5 weeks from late October to early December. He embraced the experience to pursue his artistic research focusing on ecology and sustainability in the Mediterranean. He was also an active contributor to the TUR learning community, presenting an artist talk for the printmaking classes and conducting a series of workshops on lithography for the advanced printmakers and MFA candidates. These contributions were a continuation of Prof. Plastini's involvement with lithography at Temple Rome.In the summer of 2017, he visited TUR and worked alongside professor Kovach to restore TUR's antique lithography presses, rendering them once again functional for new generations of Temple printmaking students.   
During his time in Rome this Fall, Prof. Plastini completed an impressive amount of work, making excellent use of the new RISOgraph printer. He produced a variable edition of 30 artists books; dynamic folded book structures, each containing a suite of 8 RISOgraph printed "Roman postcards". The series plays with the idea of the travel artifact, transforming the postcard into an ecological record documenting lichen formations on ancient sculptures that the artist encountered on his frequent walks in the Villa Borghese. Underneath the playful title is a timely reminder of the ecological systems whose silent living drama is ever-present but often unnoticed. In the era of climate change, such reminders are poignant. This subtle conceptual meditation is cleverly "bound" into a luscious artist book that further engages with Italian craft tradition through the use of hand-marbled and Florentine decorative papers.